Fluid Flow Consultants, Inc.
Phone: 918-787-2323
FAX: 918-791-9910
Email: sales@fluidflowinc.com
GENNET-M
---
GENNET-M is a Windows program that calculates flow rates, pressures, temperatures, velocity and other related variables in a pipeline network system carrying petroleum gases, liquids, water and multiphase mixtures under Steady-State conditions.
The name "GENNET" is an acronym for GENeral pipeline NETwork program. Thus, GENNET models systems comprised of pipes and Pressure/Temperature-changing equipment (pumps, compressors, heaters, valves, coolers, fittings, etc.) connected together in any configuration. For example, GENNET-M can handle gathering systems, flare systems, distribution systems, fire-loop systems, branched and looped pipelines. GENNET-M (the "M" stands for "Multiphase" mixtures of gas, oil or condensate and water) will handle multiphase fluid Mixtures, single-phase Liquids and single-phase Gases too.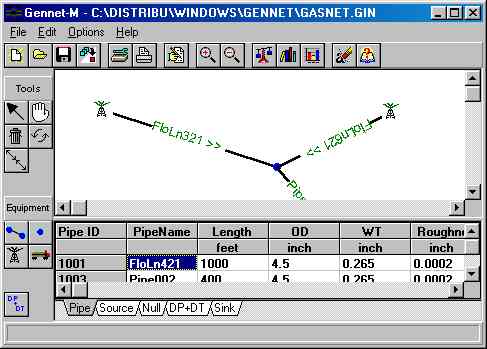 GENNET-M handles pipelines and pipe networks:

Multiple Sources (Supplies)
Multiple Sinks (Deliveries)
Multiple Loops
Has a generic Delta P/T versus Flow (DPDT) device to model:

Pumps
Compressors
Heaters
Coolers
Valves
Fittings

Source fluid variability (each source can be of completely different gravity and viscosity):

Liquid Viscosity versus Temperature Curve Input Option
Fluid property blending at junctions
Isenthalpic fluid temperature mixing at junctions

Pressure Calibration Option (enables you to match calculated pressures to measured pressures)
Liquid "Pigging" Factor Option (enables you to remove part or all of the liquids from any part or the system, so that you can calculate the improved, efficiencies of pigged lines).
Graph Pressure & Temperature versus Distance
Fixed Flow or Pressure Option at Sources and Sinks

This last feature is probably the most important of all. It is best explained by example. Suppose you had a gathering system that had several sources with known flow rates, flowing into a trunkline that is looped at several locations and eventually to a delivery terminal (sink) where the pressure is known. In GENNET, you could specify that the source pressures be calculated that would satisfy the known source flows and the known sink pressure. GENNET would also calculate the flows in all non-source pipes (including the loops) and the pressures at all nodes. (Of course, the fluid temperature is calculated everywhere too.)
---

Return to FFC's Home Page
---
This page last updated: July 20, 2011
---