Fluid Flow Consultants, Inc.
Phone: 918-787-2323
FAX: 918-791-9910
Email: sales@fluidflowinc.com
SIMPL2
---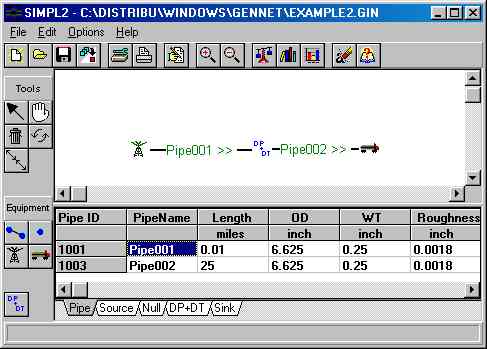 SIMPL2 is essentially a "stripped down" GENNET-M in that SIMPL2 handles only pipelines or strings of pipes or tubing with only one Source, one Sink and NO Loops. SIMPL2 calculates flowing pressures, temperatures, liquid holdup, velocities and flow patterns for any petroleum-based gas, oil, water or multiphase fluid that flow in wells or pipes. SIMPL2 handles single-phase gas, oil, condensate or water too. Up to 50 pipes/tubing may be input. Heat transfer for buried, submerged and in-air pipes is calculated. Pressure and temperature may be displayed graphically on the screen as functions of distance along the well tubing and/or pipes. SIMPL2 has U.S./S.I. units options and employs a "drag and drop" interface with on-line HELP.
---

Return to FFC's Home Page
---
This page last updated: July 20, 2011
---